Going Bananas for Lea Lana's Bananas!
Summer is just around the corner and things are starting to heat up in the valley.. I've discovered this lovely lady, Lea Lana and her cute banana squad (Airiella and Hailey) which is a new local dessert cart business in Nevada selling gourmet frozen banana pops, perfect for the summertime and for any special occasion.
$25 Per Dozen
Delivery Fee $10 with the purchase of 1 Dozen
FREE Delivery with the purchase of 2 Dozen or More
Lea Lana's Bananas requires 24 hour notice. If you have a gift emergency, text Lea @ 702-250-2432.
The great thing about these delectable treats is that they are optional--
ALLERGY FRIENDLY
Gluten Free
Vegan
Vegetarian
BUILD YOUR PERFECT BANANA PARTY PACKAGE
By following their easy 3 step guide of chocolates, toppings and drizzles.
Choose 2 Chocolates:
Milk Chocolate - Semi-sweet Chocolate - White Chocolate (in any color if preferred) Vegan Chocolate
Choose 8 toppings:
Chocolate Sprinkles - Rainbow Sprinkles - Oreo- Graham Crackers - Thin Mints - Rice Crispies - Fruity Pebbles - Granola w/Almonds - Butterfinger - Coconut - Peanuts - Pretzels - Toffee Bits - GF Pretzels - Dried Fruit - Sea Salt - Shortbread Cookies - Vanilla Wafers - Ritz Crackers - Chocolate Chip Cookies - Nerds - Tajin
Choose 3 Drizzles:
Milk Chocolate - Dark Chocolate - Dark Mint Chocolate - Peanut Butter - Nutella - Chocolate Syrup
- Caramel - Honey - Jelly - Breakfast Syrup - Hot Fudge - White Chocolate (in any color if preferred)
INGREDIENTS
Bananas
Organic
Fair-trade Certified
Chocolate (gourmet white, dark and milk chocolate dips)
Egg-free
Peanut-free
Tree-nut free
Gluten free (Celiac safe)
Contains no hydrated oils
Made with highest quality, ethically traded ingredients
Caramel Drizzle
Gluten free

Kosher certified

No preservatives, artificial colors or flavors
Peanut Butter Drizzle
Vegan
Organic certified
Non-GMO certified
Vegan Chocolate
Soy free
Egg free
Dairy free
Non- GMO certified
Made in a dedicated nut and gluten free facility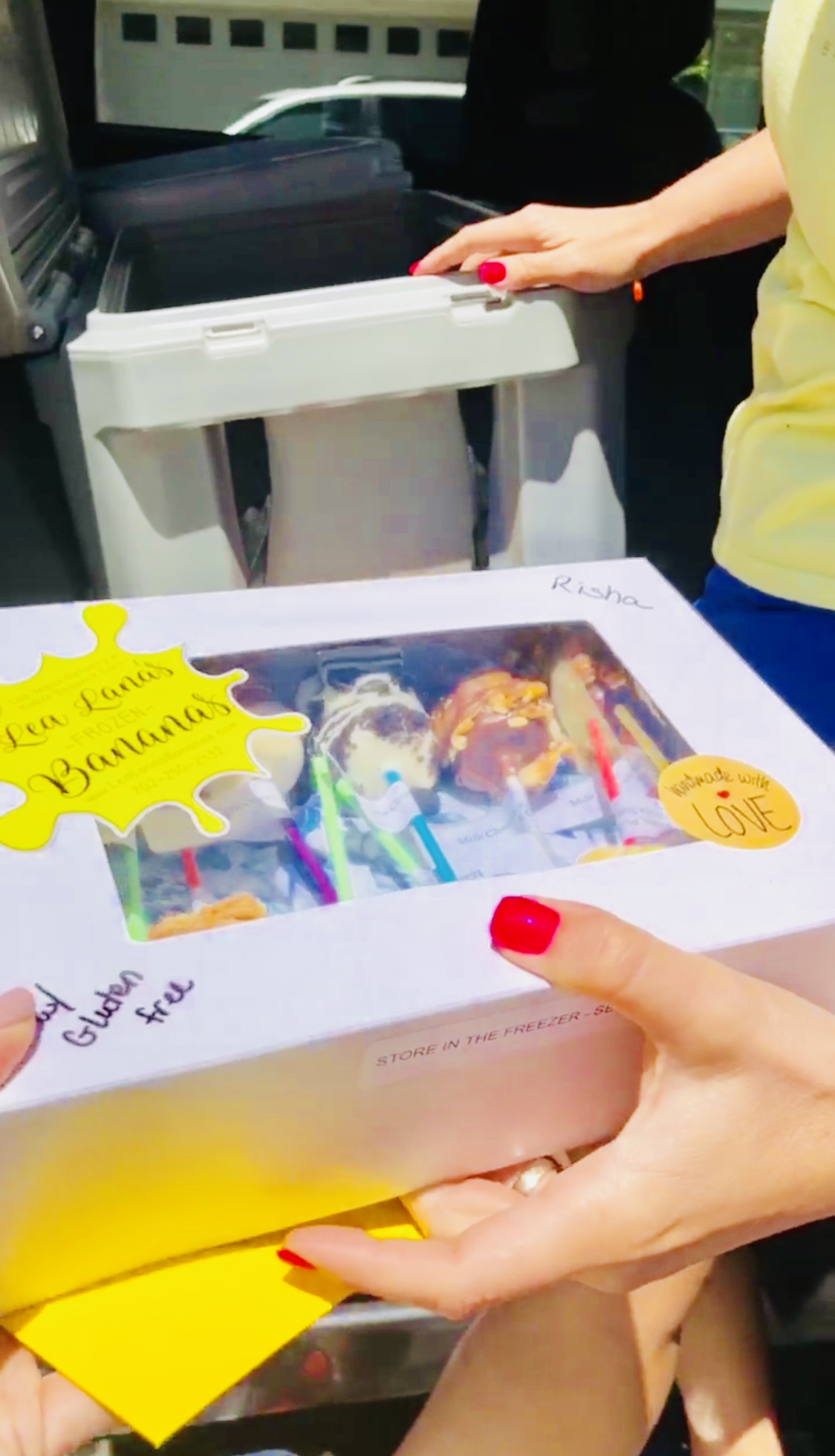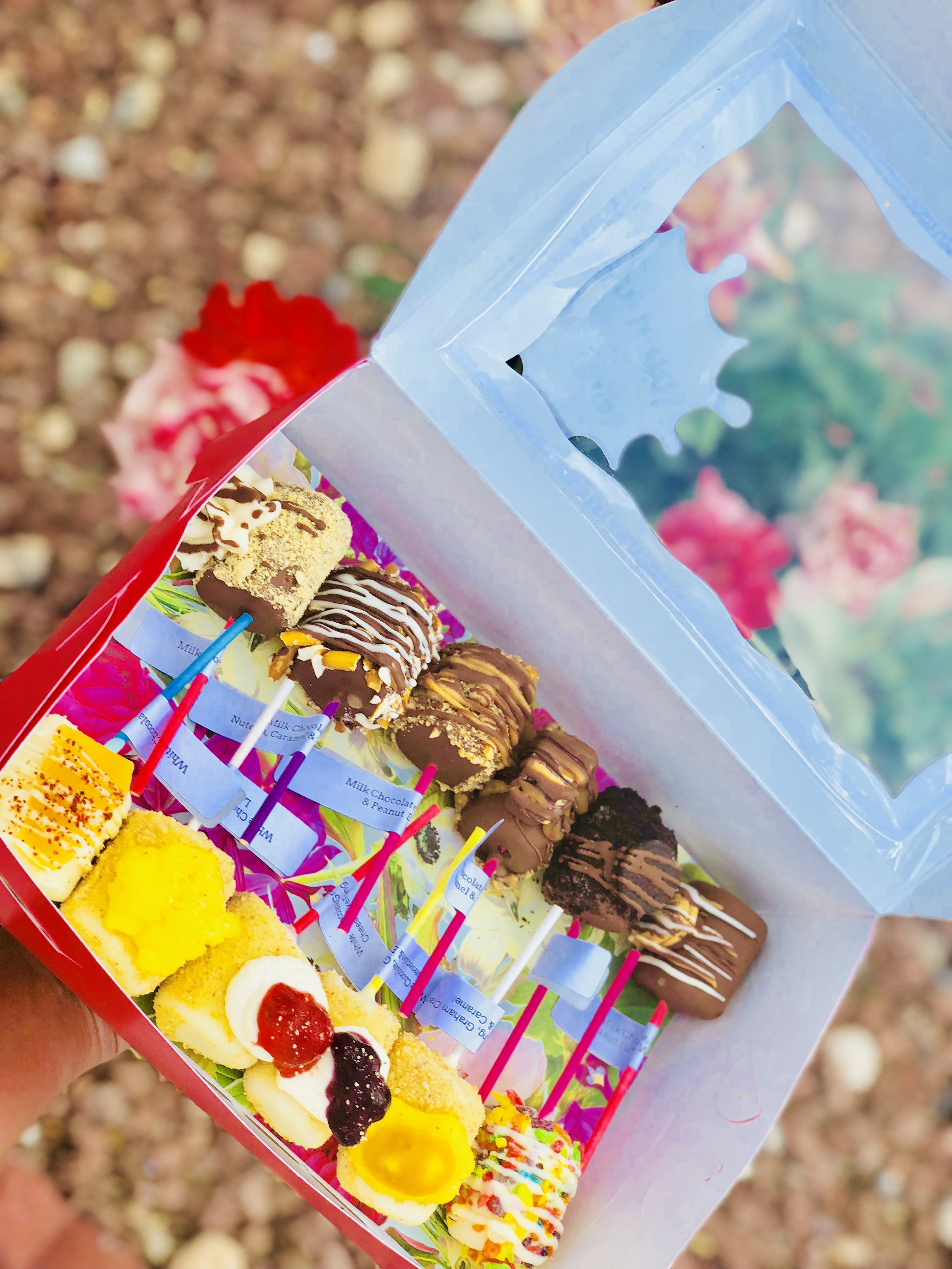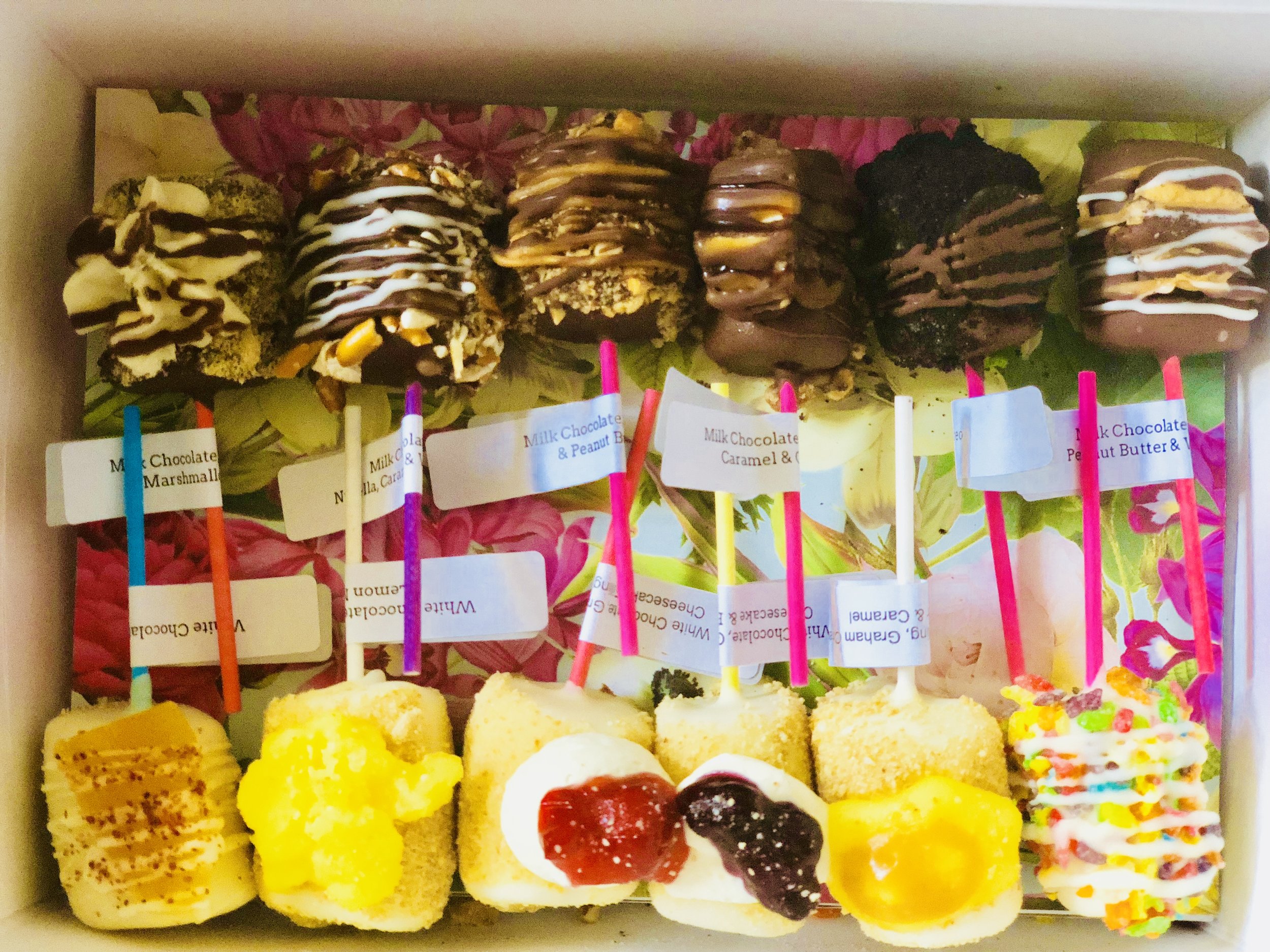 EXPERIENCE:
If you are in the Las Vegas/Henderson/Boulder City area I highly recommend giving Lea Lana's Banana's a try! This is an experience definitely worth trying & best of all, it is convenient with delivery. Lea Lana was able to deliver my special requested orders timely. As I awaited her drop-off she pulled up in her Lea Lana's Frozen Bananas pick-up truck full of frozen bananas packaged so delicately in their own own box stored in coolers. These are a major hit! Something so simple yet unique.
PACKAGING:
Each banana pop flavor is labeled.
A dozen banana pops packaged neatly in their own box.
Ice pack provided at the bottom of each package to keep frozen bananas in its hand-made condition.
A word from Lea Lana's Bananas:
What inspired you to create frozen bananas?
I created it because it was a rainy day and my daughters wanted something fun to do so we made chocolate covered bananas and from there it turned into this. - Lea Lana
I have partnered to host a giveaway, sponsored by Lea Lana's Bananas! Visit my Instagram account to enter to win a FREE dozen order of gourmet frozen bananas plus hand-delivery.
To enter to win, please:
1. Follow @reeshespieces_ and @lealanasbananas
2. Like my post of the bananas.
2. Tag one friend per comment who may be interested in these frozen banana pops. Multiple entries allowed.
*Las Vegas/Henderson/Boulder City only.

Giveaway ends on Sunday, May 20.
GOOD LUCK!
Not sponsored by Instagram.
Hope you have a banana-tastic day! :) Until next time..
Xo, Risha