My One Year MS Anniversary!!
Hello everyone!
This specific blog post is going to be filled with so much emotions. I write this with tears in my eyes and a heavy heart, filled with sadness, anger & glory. I just wanted to start off by saying that I greatly appreciate those who continue to follow me & my Multiple Sclerosis journey. Thank you to my number 1 supporters; my parents and boyfriend, to ALL those who have kept me in their thoughts & prayers, along with the endless amount of support you have all given me; including the many other MS Warriors I have spoken to virtually/met throughout this past year. Lastly, how can I forget about the care I am under by all healthcare professionals through this MS journey, I say this from a special place in my heart.. YOU ALL SAVED MY LIFE!
THANK YOU, THANK YOU, THANK YOU!!!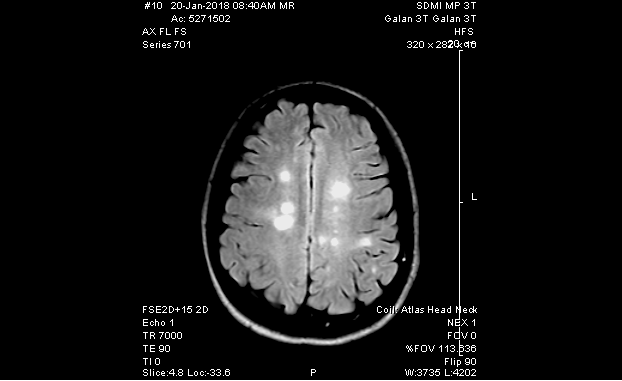 Lesion: Scar tissue on the gray matter of the brain
(bright white spots on a MRI)
Wow! It has been one year today that I was diagnosed with MS. I can't believe it! Time sure does fly and life must go on. Today, I take the time to reflect on this day & the events that led up to my diagnosis. If you have followed my MS Segments you have a better timeline of events as I have blogged them throughout the year. This day last year has changed my life forever & is a day I will never forget.. every aspect of this journey has shaped me, including the good & the bad. Never would I have thought I would be here today and that this is what my life is.
I remember a year ago today, I had an appointment to meet with a neuro-ophthalmologist who had delivered the news based upon my MRI. He stated that according to my symptoms & film it is extensive to show that I have a classic case of Multiple Sclerosis. Not knowing exactly or personally what MS is, like every person who is diagnosed with a health condition. Our initial response was.. "How can we fix this?" Well, it is incurable but there is treatment to help delay any progression of the disease. Practically speechless at the time, and yet so relieved to finally be able to put a name to what was going on. After my appointment I was sent to a treatment center to begin IV steroids to reduce the inflammation in my optic nerve in hopes that I would re-gain my vision in my left eye (a month later my vision had recovered). That moment was the official start of my MS journey…
I am constantly reminded of how heavy it weighs on my mind. Everything was moving quickly but thank goodness it was; I never really took the time to let it all sink in. I just went with the motions & that there was no time to focus on anything else at that moment but my health. Fast forward the diagnosis a year later…they say your first year is the hardest.. indeed it was.
Since the beginning I kept telling myself "you need to fight this". I knew I had to be cautious and listen to my body. I stayed pretty positive despite all the trials and unfortunate events that had occurred. Blessed as I am, I feel fairly normal asides from my residual tingling. Because I felt so physically normal I kept going, which you should right? As naïve as I was, I thought "this is fighting?" this is nothing. Easy for a person who doesn't have severe symptoms and physical ability to think.. Suddenly by the end of last year I hit a difficult point where my emotions took control & in that sense I learned that I wasn't fighting physically but had to fight mentally.
"All the God's, all the heavens, all the hells are within you" — Joseph Campbell
I admit, I am still learning to accept my diagnosis but I know this will continue to take some time. I stayed fairly positive throughout the year, however towards the end of 2018 was my all-time low. I noticed I was going through all kinds of mood changes.. My stress and anxiety has always been an issue for me even before MS but I had noticed that I wasn't the same person. In search of the girl I once was, I decided to attend a "Mood Changes" event alone offered by National MS Society to help manage what I was experiencing. I definitely knew I had anxiety but never considered the label of depression. I always thought depression was the feeling of no purpose or not having the motivation/energy to do daily tasks. I masked my thoughts and depression very well, woke up & continued on with my day like as though nothing happened. I had bursts of feeling overwhelmed, crying episodes and mental breakdowns.
I hear it all the time, that I am so positive & I love that, I love that i am raising awareness & I try to be in good spirits & because of this I believe it has given me strength. However, I do not want the misconception of being positive all the time because that would be entirely incorrect. I do have my days.  I know there are times that I am in complete denial of having MS because for the most part, I still feel normal with some residual symptoms.. so normal that I forget. I mean, it is a tremendous blessing that I feel pretty normal and that my "new normal" wasn't drastic but with me feeling so normal I tend to push myself (my body) in that way. The term "progression" is what scares me and brings me back to self-pity. The thought of my MS getting worse scares me and from going to relapse-remitting MS to primary progressive MS is something I pray that never happens. I know I should not think too ahead of myself but once again, I would have never thought I'd be…here.
My body has gone through so much within this past year and I can see my body changing: my hair, weight, skin, mind & appetite. My MS has really taken a toll. But I am so blessed that although my body has gone through drastic changes.. it has shown me strength. I'm grateful that my body continues to accept medication/treatment. I honestly don't know where would I be without it. All the medications from high-dose steroids (solu-medrol), prednisone, dexamethasone, Tysabri, Meloxicam/Baclofen, Rituxan and antibiotic in between. Thank you God for watching over me & my body.
Here's to many more years to come in remission, strength & positivity! Everyday is a new day to learn more about myself through lifestyle, advocacy & knowledge.
I am due for bloodwork & MRI along with treatment soon. Until then I continue to raise awareness of Multiple Sclerosis :)

Xo, Risha